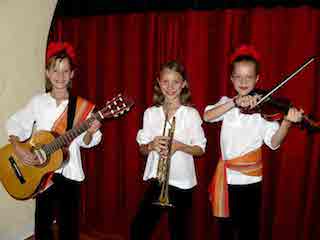 Young Arts has artists-in-residence who paint and draw beautiful art that is shown in their own exhibits. Three of these artists have been with Young Arts for four years, the 10-year-old fraternal triplets: Sarah, Sienna and Sidney. They are home schooled and have many and diverse interests, most of which involve art.
Sarah plays the trumpet and is part of a mariachi band with her sisters. She sings with the Phoenix Girls Choir, loves to read, is an actress and a ballet dancer. She is a good speller, enjoys drawing hearts and painting pottery.
Sienna is the violinist in the mariachi band. She loves painting with watercolors, plays scrabble and ping-pong, also sings in the Phoenix Girls Choir, and is a chef. She takes cooking classes and specializes in shrimp dishes.
Sidney plays the guitar in the mariachi band. She is the historian of the three, with a special interest in American pioneer history. She loves acting and is in a play at Theater Works. Sidney collects large dolls and loves constructing with Lego.
The artwork seen here – two pieces by each sister – was painted on canvas to the theme Whimsical Musical and was exhibited at Phoenix Symphony Hall.